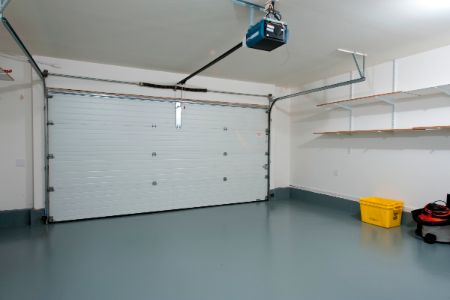 If you are constructing a new home or business in Loveland or one of the surrounding areas, then you need a garage expert you can rely on. Luckily for you, you have the experts at Garage Door Systems, Inc. to go to! With over thirty years serving the area, we have the experience to meet all of your garage door needs. Whether you need a garage door repaired or a commercial garage door installed, we have the expertise to get the job done right! And with our dedication to excellent service at a price you can afford, you will get a Louisville garage door that will last for years and years without breaking your wallet to do so!
Your garage door takes a beating. Sometimes this beating is due to daily use, and sometimes it's due to accidents that ding it up. Whatever the reason, if your garage door has degraded in looks and function, you can rely on the experts at Garage Door Systems, Inc. to restore it to like-new condition. And if you're building a commercial building that needs a garage door, look no further than our team of experts for an affordable, high-quality installation! Quality is our name here at Garage Door Systems, Inc., and the customer's needs always come first. Don't settle for any less. Get the best with Garage Door Systems, Inc.!
Garage Door Repairs in Louisville
Accidents happen - accidents like thinking your car's in drive instead of reverse. That kind of accident isn't a problem unless something like, say, your garage door is right behind you when it happens. Then, you could be looking at both a feeling of embarrassment and a dented garage door. And a dented garage door is just plain unattractive. More than that, it compromises your garage's security since a damaged door might not be able to close all the way. If you don't want to deal with an unattractive door that doesn't keep your belongings safe, just call the experts at Garage Door Systems, Inc.! We'll get your garage door looking like new, and if there are any mechanical issues, we'll fix those, too!
Commercial Garage Door Installation in Louisville
If you're building a commercial structure that needs a commercial-grade garage door, then look no further than Garage Door Systems, Inc. We install a variety of commercial garage doors: vertical lift, high lift, rollup, and even full-view. And with our dedication to providing excellent work at a competitive price, you can enjoy a great new commercial garage door without spending a small fortune on it!
Reviews & Testimonials on Garage Door Systems, Inc. in Louisville, CO
There are currently no reviews or testimonials, check back soon!
Recent Articles
5 Important Safety Tips For Residential Garage Doors

Anyone who has a home with a garage can attest to how convenient it is. Once you've had a garage, it's hard to imagine ever having a home without one. While garage doors have come a long way over […]

Current Garage Door Trends For Your Home

Few people realize what an impact garage doors make on the look of the home, until they pick one out. Or, even better, until they renovate and change the look and see what a drastic change it makes. […]